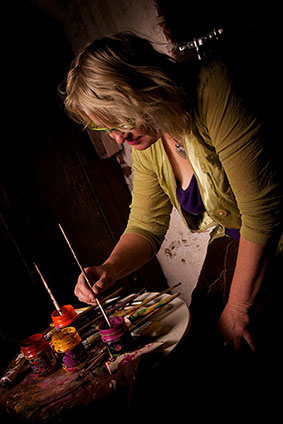 Karin Luciano, a multi award-winning Margaret River artist. Prolific since launching her fulltime art career in 2000, she has held over 29 solo exhibitions, as many collaborative exhibitions and has exhibited Australia-wide in Melbourne, Sydney, Perth, Queensland, the Asia-Pacific Region and has private collections worldwide.
She operated her own art gallery in Margaret River for 7 years and has recently completed an Artist in Residency program in the Palencia region of Northern Spain.
Influences in her work include her late father, André Schuster, a maestro gypsy violinist and double bass player from Transylvania. In Karin's artistic lineage is feminist artist, activist and painter, Miss Portia Geach. Portia was Karin Luciano's great great Aunt, born in the late 1800's.
Travelling is an integral part of Karin's art practice. She receives her inspiration from experiences and the life adventures of meeting new people, experiencing new cultures and just BEING in a variety of landscapes. Her works infuse her 'magic moments' and evoke the emotions that she absorbs during her extensive worldwide travels.
"Painting is more than just putting a brush to canvas. It's a mystical process. It's about clearing a pure path to your creative truth and allowing the light to channel through into your most powerful expression. This is my main passion in life along with writing and music. I only discovered this by chance in 2000 when I was awarded my first art prize.
I am a night owl painter and an edge-walker, connecting to all things divine, creating a new paradigm which links the eternal dialogue of the heart and spirit, and places it into authentic visual expression.
I prefer to paint at night when the world is quiet. This way, I am able to focus solely on expressing a depth of self. Poetry arrives in my consciousness while I paint which further enhances my art practice as I continue to delve deep within my soul and psyche.
My style of painting is action painting and I am an absolute colourist at heart. I adore Jackson Pollock's paintings. I love to paint BIG, and in bright vibrant colours allowing the paint to run and drip at its own pace while I manoeuvre the canvas. I apply copious amounts of rich, thick paint and continue to be spontaneous with the surface. I adore using the abundance and richness of 23ct gold leaf. Most of my works have embellishments of gold and silver adorned on the surfaces or intermingled within the textures".
Karin Luciano is without a doubt a consummate master of intuitive narrative art and her work has been described as the most original style to come out of Western Australia.
Karin's work is currently represented at the following galleries:
Jah Roc Gallery,
83 Bussell Hwy
Margaret River, Australia
http://www.jahroc.com.au/artist/karin-luciano/
ph: (08) 9758 7200