'Miles From Nowhere'. Story Pole Sculptural Exhibition @ Voyager Estate Winery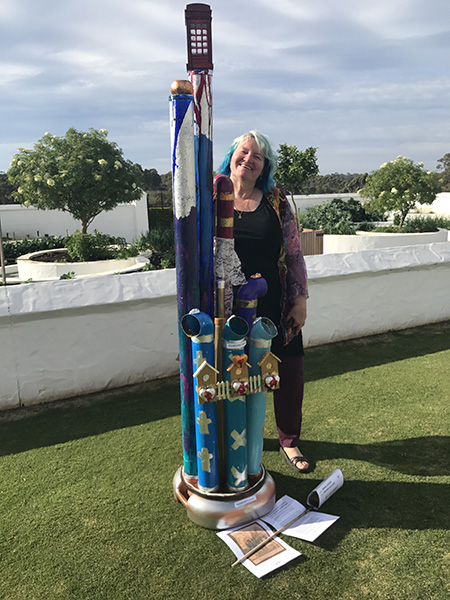 I have entered a sculptural piece titled, 'Miles from Nowhere' into the annual Visual Stories Story Pole exhibition in conjunction with the Margaret River Readers and Writers Festival 2018. The exhibition is held at Voyager Estate Winery and the display is from 21 May – 3 June 2018.
'Miles from Nowhere' by Karin Luciano      Created in memory of the Miles family.
PVC pipes. gold, silver and copper leaf, acrylic, lace, cord,mixed media on wood
"I created this piece in a very short space of 2 days and 2 nights with little sleep. I had a totally different concept last month while I hosted the Margaret River Open Studios in which I was half way in producing the work.
After the Miles family murder 2 weeks ago in Osmington, all previous creativity took a relapse. Since then, the only thing I have been able to think about daily and dream about each night has been that terrible event.
I felt I needed to express my grief and shock of this awful act somehow within my own creative process. I surrounded myself with photos of the family as I created this piece.
Each pole represents my own symbolic interpretation of each of the members of the Miles family that are no longer alive.
I lived next door to the Miles family for around 10 years when Cynda and Peter's young family were growing up and a few years later I worked with Peter who was the farm manager at the High School Farm. I assisted and worked alongside students with differing abilities interacting with the animals and plant vegetable gardens, and attended the classes in which Peter spoke.
I hope that the audience of this sculpture will take some time to reflect in their own way.
Time is the only currency we have.