My entry #1 into the Black Swan Portrait Prize, Perth 2018.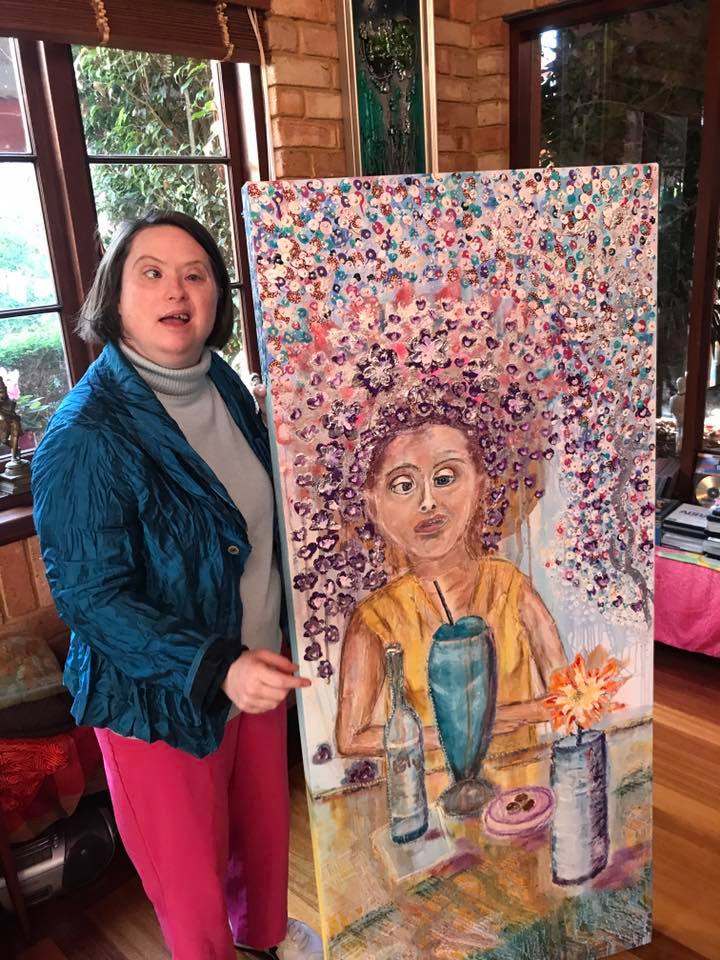 My entry into the Black Swan Portrait Prize, Perth 2018.
I do hope I get selected for this prestigious exhibition.  Fingers Crossed!! I will find out on August 17th if I am selected to be a finalist.
'A Pure Heart. My Sweet Down
Syndrome Sister, Tami with her Blue Heaven Spider Milkshake'.
mixed media/photoluminescent crystals, oil, acrylic, 23.5 antique gold leaf, & silver leaf on canvas.
150cm x 66cm x 6.6cm (depth). sacred geometry.

Tami is my sweet Down Syndrome sister that I have held in my arms since a babe 42 years ago. I love my sister to bits. She may be non-verbal but she has the most loving and joyful personality. I communicate with her by telepathy and by observing her body language.
I adore using texture and gold leaf in my paintings and as Tami has travelled to Indian ashrams many times when she was young, I wanted to a give the headdress a flavour of an Indian goddess and an iconic halo to represent her naivety and purity.
She has developed fears as she gets older, but one thing that will get her out of the house is the mention of going out to a café for a milkshake and cake.
This day she chose a Blue Heaven spider drink from our local café. The look of pure delight on her face when the drink arrived was memorable. Tami can sit still for hours and in fact, apart from eating, it is her favourite activity.